It's always hard to choose the best new TV to watch with all the season premiere's happening this time of year. You have the old faithfuls: your Soaps; Friends re-runs, which happen to be finishing this year – there is a God; The Simpsons. But, when it comes to choosing new shows, it boils down to either, a) you get into a really good, unmissable show or b) you lose an hour of your life on some complete horse…you get the picture. So, really, it's not worth the risk. This is why I have compiled my recommendations of the unmissible television of the coming year.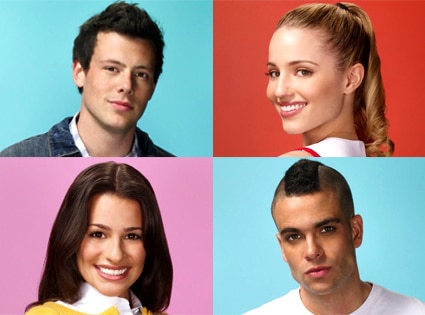 There's one name on everyone's lips these days – Glee. Now, although Glee has proved to be a good bit of light entertainment, it hasn't proved to have much substance and gets caught-up a little too much in the songs as if the writers forgot there's supposed to be a story linking them. Lea Michelle, who plays Rachel, is fantastically annoying in the good way, you can't help but like her. With such an amazing voice, which she can adapt to sing every song, she is the stand out member of the cast. Other stand out members include Jane Lynch, the fabulously devious cheerleader coach and Jayma Mays the neurotic, mysophobic and über-cute guidance counsellor.
Cougar Town, starring ex-Friends star Courteney Cox and starting on Living in March, has garnered a lot of attention since its Stateside premiere in September. It's brash, vulgar and a bit cheeky, but with waning viewers, it probably won't last past two series and you should catch it while you can. It has a great cast, and really pokes fun at an ever-rising part of the populace – the divorcée. Cox is excellent as the main character, and the supporting cast is very good. It's not really one for the boys, but it's sure to be a big hit with women all over the country.
Probably the best television series to come from the US in years is Weeds. The series revolves around the exploits of a potdealing, newly widowed woman trying to raise her children in a seriously luxurious, and apparently inhibited town in suburbia. It might not sound particularly interesting, but no blurb could really do it justice. It is the highest rating show on the Showtime network, and hasn't failed to please over its five-season tenure. The cast is unbelievably brilliant, not a single weak link in it, particularly the younger members. It's completely politically incorrect, hilariously funny and grippingly dramatic must-see TV. It has won countless awards for both the cast and the writers, and is set to have at least another season. It hasn't really caught on over this side of the pond, Sky1 have shown it, but if you can get your hands on it, I thoroughly recommend it.
Nothing has had a quite as successful a run as Doctor Who. Returning from the abyss in 2005 with Christopher Eccleston and then the ever-popular David Tennant, the show has seen a revival like never before. A must-see for all sci-fi and non-sci-fi fans alike, the show has carved-out a once forgotten timeslot of sit-down-with-the-whole-family style television. With an unforgettable theme tune, a virtuoso writing team and a stellar cast over the years, the show has spawned a huge following of super fans, and doesn't look like it's going to decline when Matt Smith takes over the role this Easter.
The best of the rest include House MD, Hugh Laurie in his hugely successful role as a maverick genius diagnostician is into its sixth season and will be showing soon on Sky1: great for post dinner/glass of wine. The Big Bang Theory is a fine replacement for the Friends re-runs that are finishing this year. It's about a group of four genii and a girl, and although the idea is a bit clichéd, it is actually very funny. Castle is proving to be a good dramedy, and already has a second season. Nathan Fillion of Buffy/Firefly fame plays a crime novelist who is employed by the NYPD to help solve murders, which are copycats of those portrayed in his novels. Gossip Girl is a superb teen drama. It's about a group of filthy rich upper-East-Siders in Manhattan, whose exploits are gossiped about by the anonymous blogger "Gossip Girl". Although it's a total guilty pleasure, it is bitchy, dark and almost painfully funny at times. Skins is probably the best UK teen drama of the last ten years. Into its fourth season and the first run of the complete cast overhaul, it hasn't lost any of its spark or failed to shock its viewers.
Keep your eyes peeled for: Better off Ted, a sitcom starring Portia De Rossi of Ally McBeal and Arrested Development fame. Set in the offices of a fictional callous technology company. It is superbly surreal and sports a great cast.
And of course, Dollhouse, another great show from the unbelievably gifted Joss Whedon with Eliza Dushku. Already cancelled by Fox, surprise surprise, it has twoseasons and has been shown on Sci-Fi. It is intelligent, philosophical and superbly written, which, combined with a terrible Friday timeslot, is probably why it was cancelled. It follows a corporation running an underground establishment, known as the Dollhouse, and group of 'Dolls' as they are imprinted with other people's personalities and skills and rented by rich people for all kinds of business. Everything eventually goes awry and as the plot line becomes so convoluted you can't help but watch. The first season is already available on DVD and the second season will be released sometime this year.